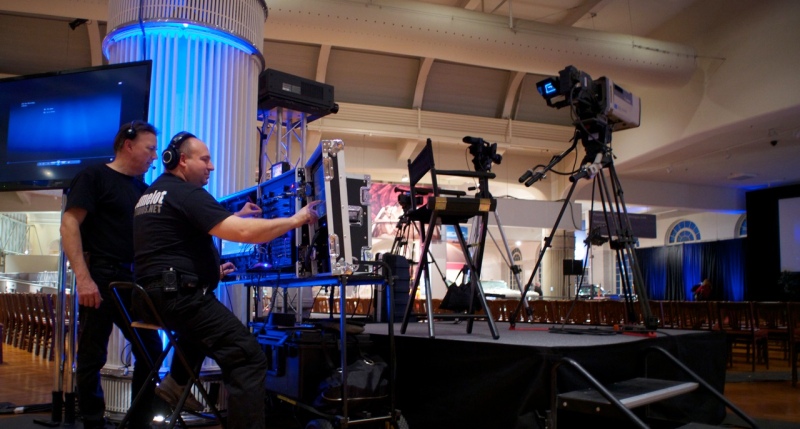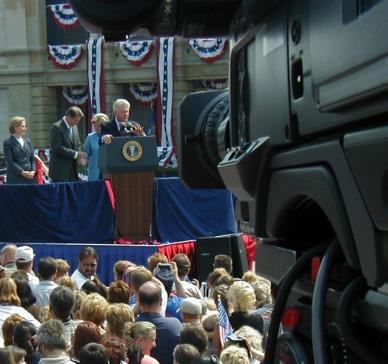 Camelot Studios, a Michigan production resource for C-SPAN and other news organizations since 1993, has crews that are experienced and well equipped. We use top broadcast gear from Sony, Sachtler, Lectronics, Canon and others. Whether the situation calls for a Spiderpod camera riser, multi-camera with wireless transmission options, teleprompter or 3 point interview lighting, your event is covered.
Camelot's filming services include high definition live switched multi-camera event coverage for both broadcast and live event streaming using Newtek's HD Tricaster system. We have also have a Convergent Design's Apollo unit, with multi-camera recording and switching capability, available for when a full Tricaster system is not needed.
Our production studio inventory includes: c-stands, gimbals, camera jibs, sliders, Kessler motion control system, CineGears Wireless 150 system, Zoom F8 portable 8 channel recorder, car suction mount system, and a Raby dolly. Camelot has the expertise to film cinema style, with camera matte box rigs, follow focus, wireless audio and an assortment of cinema grade prime and zoom lenses.
(14mm T3.1, 24mm T1.5, 35mm T1.5, 50mm T1.5, 85mm T1.5, 135mm T1.5)
4k Camera packages include the Sony PXW-FS7 with Odyssey 7Q recorder/monitor, Sony's A7sII, A7rII and two Sony PXW Z150 cameras. Camelot offers specialized high speed filming up to 180fps.
For audio, we use Lectrosonics wireless lavs and a wireless linked boom, featuring a Sennheiser MKH416 mic with Rhode blimp system.
5600k Lighting, 6 x Light Storm panels, 1 x 200w Led fresnel, 4 x 100w Led fresnels, 1x 60w 1x 30w led fresnels along with various other panels.
3200k Lighting - 5 x fresnels, baby mole soft light, Chimera soft boxes, 3 pin spot peppers, and an assortment of other fixtures.
Drones - we are into our second generation of drones and now have two identical units equipped with gimbals and Hero 4 cameras.